HON SHA ZE SHO NEN - Distant symbol
---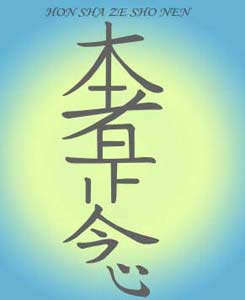 Hon Sha Ze Sho Nen means "There is no past, present, future. All is now".
It is used for distant healing.
In distant healing the Reiki energy can be sent both over thousands of kilometers or to a person sitting in the next room. You can even direct the energy to the past or future. In distant healing there is no such a concept as "past" or "future". Once we realize that there is not another time except the moment of now and we see that there do not exist any boundaries, then we will be in condition to artificially alter our consciences at will.
Thanks to Hon Sha Ze Sho Nen you can direct the energy through the time and space. You can sent the Reiki energy to the situations and people of the present, past and even future.
› Reiki Symbols
› Cho Ku Rei
› Sei He Ki
› Dai Ko Myo
› Reiki Effect

Hon Sha Ze Sho Nen can be directed to several places at the same time. Moreover, you can send Reiki from one area of body to another, which is particularly important in case we for any reason cannot touch the given area with our hands.
Hon Sha Ze Sho Nen promotes the balancing of a human's energy centers.
It helps concentrate our mind on what is going on with us at the given moment.
Hon Sha Ze Sho Nen is used in the distant treatment technique. Thanks to it the healing energy and other symbols can be used for the solution of the assigned task.
---
TO ACTIVATE AND SUCCESSFULLY USE
"HON SHA ZE SHO NEN",
IT IS REQUIRED TO TAKE REIKI LEVEL 2 TRAINING