---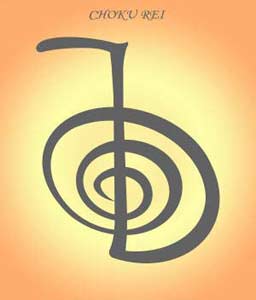 Cho Ku Rei is the first and one of the basic and frequently used Reiki symbols. It opens the energy source, helps access the Reiki energy and increases the energy flow. Thanks to its shape it is capable of focusing the universal energy only on one point. It increases the Reiki flow and enhances the healing energy.
This symbol considerably accelerates the wound healing process. It promotes the abatement and compete disappearance of various pains. It can be used together with the symbols of other Reiki systems. If used on the forehead and heart chakras, it may decrease nervousness and irritation. Cho Ku Rei can be used during the distant healing along with the symbol Hon Sha Ze Sho Nen.
---
Cho Ku Rei cleanses the energetic space of any area.
---
It energizes meals, drinks, medications, crystals and precious gems.
It is used during the initiation processes, cleansing and meditation. Meditating on this symbol will develop intuition. It is recommended meditating twice a day for 30 minutes.
Application area
Cho Ku Rei is usually visualized on the palm of a Reiki practitioner, directly on the affected or sick area, over the head of the client. It is recommended drawing it with a palm center or simply visualizing it. The name of the symbol is pronounced three times in succession.
Cho Ku Rei can be mentally drawn over the palms before the healing session. This method will promptly activate the Reiki energy.
Cho Ku Rei also increases the positive energy and diminishes negative influences.
---
TO ACTIVATE AND SUCCESSFULLY USE "CHO KU REI",
IT IS REQUIRED TO TAKE REIKI LEVEL 2 TRAINING