---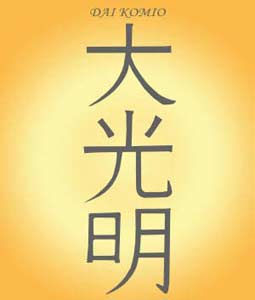 Dai Ko Myo is a Master symbol, which is the symbol of Reiki Level 3 attunement, when a universal life energy is incorporated with our energy. The Master symbol has several meanings, but the most well-known is "Great Shining Light".
It is a triune symbol – Love, Light ad Harmony. This symbol is an absolute source of energy. You can use it when practicing the universal life energy even instead of other symbols. It is accounted for by the fact that being a triune symbol it incorporates all other symbols. It is not merely a symbol, it is a transient step on the way towards the use of this pure energy. You can use it wherever and whenever you wish. Chant its name as a mantra in meditations.
› Reiki Symbols
› Cho Ku Rei
› Sei He Ki
› Hon Sha Ze Sho Nen
› Reiki Effect

Dai Ko Myo is a comeback to the simplicity, in other words, the three other symbols are in one. At Level 1 we are impressed by the simplicity of Reiki. All we need is faith in the source of the universal life energy. At Level 2 we learn new methods of making use of the opportunities of Reiki. At Level 3 we once again revert to the simplicity and unity.
---
TO ACTIVATE AND SUCCESSFULLY USE
"DAI KO MYO",
IT IS REQUIRED TO TAKE REIKI LEVEL 3 TRAINING